The P. wallichii is named for Nathaniel Wallich, Director of the Calcutta Botanical Garden in 1815

Common name is Indian Staghorn, they are found in the wild in Thailand, Northern India, Burma and the Yunnan Privince of China.

This species has tall spreading shields with many rounded lobes along their upper edge. It forms a definite basket. The shields may all be brown while the fertile fronds are still green.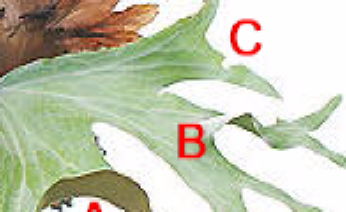 The fertile fronds have distinctively prominent veins on the upper side. Their shape varies greatly in cultivation. Although there is one main lobe which hangs down and has the main spore patch on in, there may be a second lobe to it's side with a spore patch, with third lobe to it's side with no spore patch. If there are enough lobes, the frond becomes fan-like and the outer lobes may even blend in with the shields. The area with the spore patch extends forward and may have points on the edge. The three lobes are labeled A, B, C in photo on right. This photo also shows blotched shield fronds that no one has discussed in publications. Are they dirt stains or typical markings on all P. wallichii? Observing Google images suggests they may be common markings on P. wallichii.
Roy Vail's photo on left shows a fertile frond with many lobes. Only the first two have spore patches. This fertile frond is so wide that it has formed a curtain in front of the shield fronds. Notice the distinctively prominent veins on the upper side.
P. wallichii is difficult to grow in collections. It may die from rots, but more often it goes into dormancy and never comes out. There are different ideas on how to prevent dormancy. One grower gives it no water while dormant. Another grower keeps it watered well all year so it does not go dormant. More experience with this species is needed and there are too few growers of P. wallichii.
P. wallichii growing in Thailand grow together with P. holttumii and share the same environment, monsoon forests with definite wet and dry seasons. Roy Vail thinks possibly cool temperatures during dormancy are important to these plants.
Roy feels the future of P. wallichii in the hobby probably depends more on sporelings being raised under cultivation here than on imports. These plants could be better conditioned to the environment in collections. The spore are green, an indication they do not live long. They germinate quickly. Sporelings, under very moist conditions, have volunteered, causing Roy to suggest that a pad of moist moss kept below a spore patch might develop some sporelings.
Comparison of; P. grande, P. superbum, P. holttumii, P. wandae, P. wallichii

Species

P. grande

P. superbum

P. holttumii

P. wallichii

P. wandae

Common Name

Grande

Superbum

Holttumii

Indian
Staghorn

Queen Staghorn

Temp Range

40 to 100 F

30 to 100 F

60 to 100 F *

60 to 100 F *

60 to 100 F *

Number of fertile fronds with lobes
Many, divided
Many,
not divided
Many with 2 lobes
1 elevated,
1 hanging down
Many with only 2 lobes
Many with 2 lobes
1 elevated,
1 hanging down
No. Spore Patches

Two per Lobe

One per lobe

One per lobe

One per lobe

One per lobe

Spore Patch shape

Equal size

Oval/triangular

1 small elevated
1 large hanging down

Not known

1 small elevated
1 large hanging down

Frill around bud

No

Yes

No

No

Yes

Volunteer Pups

No

No

No

Very rare**

No

Native to:

Philippines

Australia

SE Asia

SE Asia

New Guinea

So. California
Growing environment

Humid greenhouse

Outside
50% shade cloth
Humid
Greenhouse
Humid
Greenhouse

Humid
Greenhouse